Danielle Levy Seitz, Esq. is a partner with Aloia, Roland, Lubell & Morgan, PLLC. Seitz's primary focus since becoming a member of the Florida Bar in 2012 is in the areas of divorce, marital, family and adoption law. She joined the firm in 2016. Seitz represents clients in dissolution of marriage (divorce), paternity, child custody, relocations, modifications, domestic violence, and adoptions. She enjoys being a strong, dependable advocate for her clients. Seitz guides, educates and supports her clients through what is often the most stressful and emotionally trying time in their lives.
Danielle Levy Seitz has been recognized by Florida Super Lawyers Magazine for five consecutive years (2017 to 2022) as a "Rising Star" in the field of family law. She is featured in the Top Lawyers 2021, which is a peer-rated accolade in Naples Illustrated. In 2020, Aloia, Roland, Lubell & Morgan, PLLC was named the 2020 Gulfshore Magazine Best of Business in three categories: "Best Litigation Law Firm," "Best Corporate & Business Law Firm" and "Best Commercial Real Estate Law Firm."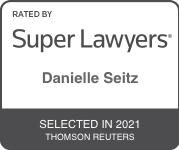 Education & Involvement
Seitz earned her law degree from Loyola University Chicago School of Law, where she also received a Certificate in Child and Family Law. She served as a senior editor of the Children's Legal Rights Journal during law school. Seitz graduated from the University of Florida with dual undergraduate degrees in Journalism and Political Science (Cum Laude, 2006).
Improving and giving back to our local community is something she cherishes most. She is an active member of the Family Resource Center of Southwest Florida, Lee County Bar Association, Florida Bar's Family Law Section, Lee County Association of Women Lawyers, Association of Family Law Professionals, she's a member of the Calusa Chapter of the American Inns of Court and the Greater Fort Myers Chamber of Commerce Leadership NEXT Committee. Seitz is a past chair of the Family Law Q&A Panel within the Family Law Advisory Group of the 20th Judicial Circuit of Florida. She also served as the co-chair of the Leadership NEXT Committee in 2018 – 2019.
Seitz graduated Fort Myers High School and prides herself as one of Fort Myers' natives. Seitz is married to David Seitz, who is the director of technology and operations for Aloia Roland. They first met in kindergarten at Tanglewood Elementary. She and her husband enjoy tackling DIY projects and are likely to be spotted cheering on the "Boys from Old Florida." Go Gators!